October
Released Medication Adherence Report on observed impact of Veradigm RxTruePrice™ on medication adherence among users.

Partnership with Updox announced by Practice Fusion, a brand of Veradigm, to offer telehealth, appointment reminders and patient engagement communication tools.
---
August

First annual Survey of Independent Practices results announced by Practice Fusion, a brand of Veradigm.

Komodo Health partnership linked more than 50 million patient records with real-world EHR-based data and claims information.
---
June

Partnered with American College of Cardiology to develop nextgeneration research network: NCDR PINNACLE and Diabetes Collaborative Registries.

Acquired ZappRx, a leading specialty medication fulfillment platform.
---
April

New Research Network Model—Research at the Point-of-Care is introduced by Stephanie Reisinger, Life Science General Manager, and featured speaker at Eye4Pharma.
Released Medication Affordability Report on observed impact of price transparency technology on patients and providers.
Acquired new U.S. patent for Electronic Prior Authorization Systems and Methodologies.
---
February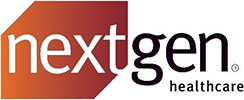 Agreement with NextGen® Healthcare to streamline healthcare provider workflow and facilitate data sharing.
Veradigm becomes the largest source of de-identified ambulatory patient records available.

Debut at HIMSS 2019, co-presenting with Surescripts on price transparency in the Interoperability Showcase.
---