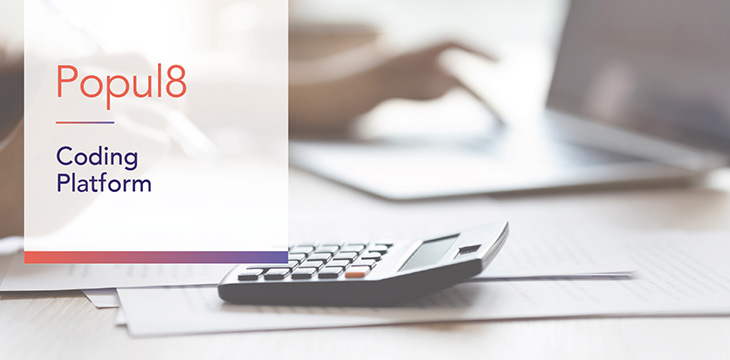 Optimize Financial Outcomes, Remain Compliant with Regulators, and Increase Coder Productivity
Popul8 is a coding solution that leverages advanced technologies to enable health plans to more efficiently and accurately identify, document, and validate those conditions for which their members were treated. Popul8 employs advanced computer-aided coding technologies, such as Natural Language Processing (NLP), Machine Learning (ML), and Optical Character Recognition (OCR), to optimize coding performance.
This produces both an efficient and accurate solution for regulatory compliance and optimal financial outcomes.
---
Designed for Coders, by Coders, to Enhance Coding Proficiency and Efficiency
Veradigm's Coding Platform is an Extract, Transform, Load (ETL) solution that can identify, document, and code conditions from all available data sources. After identification and extraction, Popul8 parses and processes XML schema using a 2-stage coding engine.
Stage-1 uses an International Classification of Disease (ICD) Parser to identify all conditions present in or strongly implied by the chart and physician notes
Stage-2 uses NLP to enhance detection accuracy, which minimizes false-positive conditions
Our computer-assisted Coding Engine pre-populates charts to give your staff an informed head start, focuses users on the relevant dates of service (DOS) and conditions, and our "easy-flow" code entry screen orchestrates automatic chart queuing to produce an efficient workflow and multiple quality control and audit levels ensure clinical accuracy.
---
Get Up and Running Faster with Veradigm's User-Friendly Coding Platform
Popul8 was developed expressly for health plans seeking a reliable coding solution that delivers productivity gains, steadfast clinical accuracy, and audit-defensible results.
Our versatile system can be used across all lines of business and for all submission types (EDPS, RAPS, 837, and XML). Plus, it features designed scalability, thanks to fully virtualized sub-systems. And—for all its flexibility—Popul8 can be configured without taxing your IT staff.
Check Out Veradigm's Coding Platform, Popul8, Now
Ready to learn more about our Coding Platform solution?