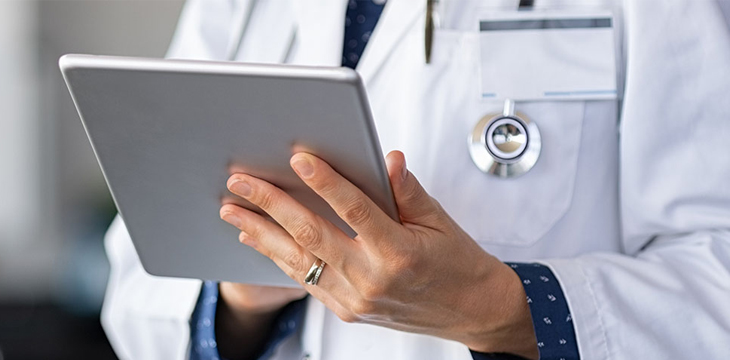 Easily Manage Your Financials, Staff Burnout, and Supply Chain with a Single Solution
Healthcare has navigated unprecedented changes in recent years and is evolving fast. Veradigm Enterprise Resource Planning (ERP) helps to reduce the risk that comes from supply chain disruptions, clinician and staff burnout and financial pressures.
Veradigm ERP Integrated Solutions enhance an organization's ability to effectively manage their supply chain and financials with a single solution, enabling managers to gain new insight into and gain better control over their success, along with the ability to manage expense and capital that is critical to the overall financial health of an organization.
Veradigm Enterprise Resource Planning (ERP) includes:
Veradigm Fiscal Management
Veradigm Supply Chain
Veradigm Human Capital Management
Point of Use
---
Managing Financial Pressures
Veradigm Fiscal Management is an easy-to-use accounts payable, general ledger, project management and fixed asset solution that helps your organization streamline processes, eliminate paperwork, analyze data, and identify substantial cost savings throughout the enterprise.
ACH Payments
Offers same day electronic payments to automate the payment process
Transaction Flexibility
Provides the ability to limit transactions by date to be included in closing period
Reverse Disposals
Ensures quick recovery of retired assets
Real-time Processing
Provides immediate, updated financial information so users get quick answers regarding inventory management and financial impact with integration between the modules
Increase Productivity
Reduces time and error by eliminating time-consuming manual reconciliation
---
Linking Supply Chain
Veradigm Supply Chain links the entire supply chain into a single, integrated process, providing single to multi-entity healthcare organizations with accurate, up-to-the-minute operational information that helps forecast supply needs, streamline processes, automate ordering, reduce overall costs, and increase productivity.
Touchless Buying
Automates the entire requisitioning through procurement process - freeing up time to focus on more value-add functions
Alternate Sourcing Options
Adapts quickly to changes in availability with upfront identification of acceptable item substitutions and automates sourcing decisions to supply availability
Go-Anywhere Automation
Provides flexibility with use of mobile devices to complete critical functions where needed, these include inventory searches, cycle counts, on-hand quantity searches and pick tickets
Digitized Inventory Process
Establishes single source of truth and automation from order-to-delivery to real-time on-hand status enables end-to-end supply chain visibility
Actionable Insights and Analytics
Enhances supply chain resilience by providing insight to savings opportunities from contract overspend, total spend analysis and standardization opportunities
---
Streamlining Staffing Effort
Veradigm ERP is purpose built for healthcare and automates processes to reduce manual, redundant efforts and increase productivity across all functional areas. Mobile devices and scanning functions further streamline functions and enhance data capture.
Purpose-built Workflow
Reduces time spent on transactions and allows more time delivering patient care with workflow including automation and built specifically for healthcare
User-friendly
Utilizes standard Microsoft tool bars for quick adaptation and training
Data Integration
Eliminates double data entry through integration between clinical systems (EHR, OR, Cardiology) to automate supply replenishment and patient charge capture
Mobile & Bedside Patient Supply Scanning
Automates workflow to capture supply usage, on-hand quantity, and applicable patient charge capture with a single scan to increase productivity and ensure accurate patient charge capture
Mobile Real-time Inventory Status
Saves time searching for supplies with real-time access to item availability across the organization
Bar Code Scanning
Captures through single scan: critical data elements, such as, lot #, serial number, expiration date saving time and ensuring accuracy of data
---
Experience the Difference
Made for healthcare—Supply Chain Solutions is the only supply chain application designed specifically for healthcare and is scalable for single or multiple facilities.

Proven vendor and solution—Fiscal Management and Supply Chain Solutions have 20+ years of proven experience as a vendor-agnostic system that can interface with all of the top 10 EHR and revenue cycle solutions.

Easily transmit data—Full electronic data interchange (EDI) e-commerce embedded within the solution to transmit and receive procurement data directly into the purchasing application.

Single source—The Punch-Out features enables one source for all procurement activities and controls.

Fully integrated, agnostic solution—Supply Chain Solutions and Fiscal Management interface with most major EHR systems, and there is full integration between Fiscal Management and Supply Chain Solutions.