Veradigm® is an integrated data systems and services company that combines data-driven clinical insights with actionable tools that fit the clinical workflow, addresses research opportunities, and provides analytics. Our solutions are designed to help key healthcare stakeholders to improve the quality, efficiency, and value of healthcare delivery—including biopharma, health plans, healthcare providers, health technology partners, and most importantly, the patients they serve.
To optimize the value Veradigm brings to each of these audiences, we have integrated clinical informatics pharmacists – like myself – who help ensure we are looking at our solutions through the eyes of the health care provider. My role is intended to provide guidance in patient safety, and the use of technology to optimize care delivery processes and effectively communicate patient care activity. Our strong understanding of pharmacy practice along with informatics can help lead to the development of solutions that deliver on the promise of improved patient outcomes and clinical efficiency.
As a Clinical Informatics Pharmacist new to Veradigm, the learning curve was steep in moving from a clinical environment to a business environment and moving from being care-focused to an IT-focus. I initially gained interest in informatics while working as a hospital pharmacist. Being a detail oriented and analytical person, I started to wonder how things operated behind the scenes as I worked through complex issues in the electronic health record. I realized I can make a significant clinical impact by understanding how to make necessary changes to improve the user experience. I kept an eye on the industry, and as I started noticing more informatics jobs being created, I felt it was the right time to make the transition into a full-time role. I was surprised by how many different aspects of pharmacy practice can be used within the healthcare information technology (HIT) industry. After six months, I had learned the importance of being able to bring real world perspectives from different practice settings including (community pharmacy, hospital, ambulatory, and administration).
Fellow colleagues, family, and friends often ask what I do as a pharmacist working at a HIT company that doesn't sell pharmaceutical products. The answer is that, while I do not have a "typical day," I am frequently asked to join projects including reviewing medical content through education pamphlets or advertisements, verify the need or lack of a drug utilization review (DUR) being available upon physician request, look up medication information and communicate to our team. Additionally, look up state-specific laws related to change of medication status, medication codes such as RxNorm and NDC for queries, and develop new marketing content. All these responsibilities have helped me learn and educate others in non-clinical health care roles such as project management, software development, support consultation, product management, engineering, business analytics, financial planning, and sales specialists.
What I love about the job is that I get a different request each day on very different topics that range from a minor scrape needing antibiotic ointment all the way to researching the latest treatments for stage 4 cancer. I am very fortunate that my role continues to grow as fast as our business. I am looking forward to seeing what new business opportunities arise in 2019. Since I have been hired, I have seen multiple PharmD's get hired in different areas of our business, and it's encouraging to see our commitment to our customers.
According to Becker's, nearly half of young physicians, pharmacists want to work in tech. Stay tuned for more blog posts coming soon, on a range of topics related to how Veradigm is integrating clinical experience into what we do every day.

---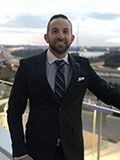 Tom Pasquariello, PharmD, BCPS, BCMAS, PRS
Tom Pasquariello, PharmD, serves as a Clinical Informatics Pharmacist for Veradigm. He graduated from Campbell University College of Pharmacy and Health Sciences in 2008. After serving as a hospital and community-based pharmacist for 7 years, Tom joined Allscripts in 2015. As the Veradigm clinical informatics pharmacist, Tom serves as a thought leader for Clinical Workflows, Practice Fusion, and Payer Health markets. He also manages the Allscripts' Medi-Span content relationship for all medication related issues. Tom publishes a weekly newsletter to the Veradigm product management, sales, and payer teams. This newsletter provides insight on new FDA approved medications, relevant medical news, pharmacy benefit management (PBM) updates, and new genetic therapies. By connecting the Veradigm team and our external sales partners, the weekly newsletter helps the team stay on the forefront of medical updates, exceeding the needs our clients and ultimately helping to provide better care to each patient.