Defining Medication Reconciliation
The Joint Commission on the Accreditation of Healthcare Organization (JCAHO) defines medication reconciliation (medication reconciliation) as the process of comparing a patient's medication orders to all the medications the patient has been taking.1 A practitioner, clinical pharmacist, or registered nurse often performs this review to avoid medication errors such as omissions, duplications, dosing errors, or drug interactions. This follow up review is known as Transitional Care Management (TCM).2 Best practice is to perform this review at every transition of care including hospital, home health care, skilled nursing facility, etc. It is critical for this process to be documented in the patient's medical record to maximize a Centers for Medicare and Medicaid Services (CMS) 5-Star rating.
5-Star Ratings and 30-day Medication Reconciliation
CMS 5-star rating includes a measure called the CARE-1 (NQF 0097): Medication Reconciliation Post-Discharge (MRP). Healthcare Effectiveness Data and Information Set (HEDIS) also has a measure for the MRP. The measure assesses adult patients who were discharged from an acute or non-acute inpatient stay between January 1st and December 1st of the measurement year. It looks at patients whose medications were reconciled from the date of discharge through 30 days post discharge (31 days total). For the MPR to count toward the CMS 5-Star and HEDIS quality measure, health care providers must meet certain criteria when documenting evidence of medication reconciliation in the patient's medical record.3
There are specific procedure codes known as Current Procedural Terminology (CPT) that must be used for proper documentation and billing. Code 1111F is associated with discharge medications reconciled with the current medication list in the outpatient medical record. Other transitional care management service codes include 99495 and 99496. Both codes are associated with communication (direct contact, telephone or electronic) with the patient or caregiver within 2 business days of discharge. The difference is that 99495 is medical decision-making of at least moderate complexity and a face to face visit within 14 calendar days of discharge while 99496 is high complexity and 7 calendar days of discharge.4 Easy retrieval of these codes in the health record will help expedite health plans meet the 5-Star rating.
Current Challenges
Challenges and issues associated with the medication reconciliation process remain. The manual process for health plans of scouring patients charts to obtain medication reconciliation history documentation is costly, inefficient, and time consuming. In addition, there is a lack of connecting devices that health plans and providers need to complete the process seamlessly. This leads to a deficiency of collecting accurate and complete medication records and not meeting the 5-Star ratings value-based incentive of the 30-day Medication reconciliation.
The Da Vinci Project
30-day Medication Reconciliation is a key focus area and an early use case for the Da Vinci Project. "Da Vinci Project Use cases were created to promote interoperability across value-based care (VBC) stakeholders and to guide the development and deployment of interoperable solutions on a national scale, the industry common standards such as HL7 FHIR, implementation guides and reference implementations."5 The objective of their 30-day Med reconciliation use case is to create a workflow that will enable providers to indicate that the process has been completed for a specific patient on a specific date. Having this documentation available for electronic retrieval will relieve health plans from having to chase down patients and providers for accurate information on encounters and provides an opportunity to maximize the potential for exceptional 5-Star ratings.
Pharmacist Assessment
As a pharmacist, I understand the significant benefits of performing a medication reconciliation. Most importantly, this process helps patients fully understand their care plan including their prescribed medication regimens while optimizing safety and trying to save them money. In addition to patients, medication reconciliation also helps health plans keep costs lower for their members by decreasing the need for additional, unnecessary care and hospitalizations. More and more facilities are hiring staff specifically for inbound and outbound medication reconciliation documentation and counseling.
Veradigm®
Veradigm is adopting the 30-day medication reconciliation use case to improve bi-directional information exchange between health plans and providers. Veradigm, an Allscripts brand, is proud to be one of the founding partners of the Da Vinci Project and is committed to building open, connected communities. Please contact us for more information.
---
1https://www.ihs.gov/ehr/medicationreconciliation/
2https://www.uhcprovider.com/content/dam/provider/docs/public/reports/path/TCM-MRP-Post-Discharge.pdf
3https://www.bcbsm.com/newsletter/therecord/2016/record_0516/Record_0516d.shtml/
4https://www.aafp.org/dam/AAFP/documents/practice_management/payment/tcm-faq.pdf
5http://www.hl7.org/documentcenter/public_temp_45A81867-1C23-BA17-0CABE8307E9CC4ED/pressreleases/HL7_PRESS_20180905.pdf
---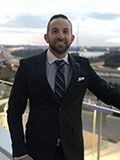 Tom Pasquariello, PharmD, BCPS, BCMAS, PRS
Tom Pasquariello, PharmD, serves as a Clinical Informatics Pharmacist for Veradigm. He graduated from Campbell University College of Pharmacy and Health Sciences in 2008. After serving as a hospital and community-based pharmacist for 7 years, Tom joined Allscripts in 2015. As the Veradigm clinical informatics pharmacist, Tom serves as a thought leader for Clinical Workflows, Practice Fusion, and Payer Health markets. He also manages the Allscripts' Medi-Span content relationship for all medication related issues. Tom publishes a weekly newsletter to the Veradigm product management, sales, and payer teams. This newsletter provides insight on new FDA approved medications, relevant medical news, pharmacy benefit management (PBM) updates, and new genetic therapies. By connecting the Veradigm team and our external sales partners, the weekly newsletter helps the team stay on the forefront of medical updates, exceeding the needs our clients and ultimately helping to provide better care to each patient.