As I look back and contemplate all of Veradigm's accomplishments during our first year, it leaves me excited about our future. We have been fortunate to enjoy many great successes including key new partnerships and acquisitions, speaking engagements, publications, and new product launches since it all began on November 14th 2018.
As a clinical pharmacist at Veradigm, I have the unique opportunity to help with product development by sharing my perspective on how to make our solutions more user friendly for our clients. Being in the industry for over a decade has provided me the opportunity to learn from other healthcare professionals about the many facets of healthcare. This includes the medical side of healthcare, not just pharmacy. Two areas of focus where Veradigm has innovative plans are specialty medication management, and prescription drug monitoring programs (PDMPs).
There are many gaps in the prescribing and distribution of specialty meds. Specialty medications are considered "special" for various reasons, typically due to high cost, treatment of rare and chronic conditions, requiring special handling and storage, or having limited distribution. The cost of specialty meds has continued to rise, and they are becoming increasingly difficult to obtain. From my perspective as a pharmacist, the issue seems to be multiple hands in the pot with little direction and guidance. Veradigm is working to educate and provide support through a step by step approach and streamlined process - taking the guess work out and helping patients receive medications in a timely fashion.
A great example would be the patient that just got prescribed a specialty medication for a chronic disease which will cost about an average of $78,000 per year. When this family's combined household income is only $53,000, that cost is an incredible burden – one which only increases with the realization they could have to wait weeks or even months longer to actually obtain the prescription. This is one of many kinds of patients we want to help - by building a solution that identifies an affordable and appropriate option for their care plan.
We are doing this by delivering industry-leading solutions to help healthcare providers identify the most cost-effective prescription medication solution for their patients at the point-of-care. Veradigm is also working to bridge gaps in the complex specialty medication fulfillment process, a maze of requirements and verifications that delay care and negatively affects all stakeholders – from patients and providers to BioPharma companies, payers and specialty pharmacies. In doing so, our goal is to help patients access those essential medications, as quickly and affordably as possible.
For PDMP, currently clinicians must go outside their workflow to verify narcotic activity for a patient on their unique state registry. This is a cumbersome process that takes time away from patient care and is often frustrating when the information is not presented in a user-friendly manner. Veradigm understands the importance of this issue and is working to help resolve some of the pain points. A future product will help clinicians obtain the data they need from the registries through their current workflow. Our focus is to partner with clinicians in support of patients, making sure each one gets the medication prescribed.
When I think of Veradigm, two specific words come to mind that I feel our customers desire, trust and interoperability. Veradigm strives to be a trusted partner to all stakeholders by providing high quality solutions that help make our customers' lives easier and their businesses more efficient. We champion interoperability by connecting with partners and healthcare professionals, such as The DaVinci Project and the American College of Cardiology. From supporting independent physician practices with our Practice Fusion EHR through to managing analytic and research projects for life science companies, we have the right tools and partnerships in place to grow with the industry.
Veradigm is leading the way to inform the transformation of healthcare. Our white papers, blogs and other publications provide insights and perspectives supporting the transformation of healthcare.
Help us celebrate our one-year anniversary by visiting us at https://veradigm.com/veradigm-news/ and read our newest publications or archived content.
---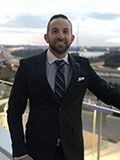 Tom Pasquariello, PharmD, BCPS, BCMAS, PRS
Tom Pasquariello, PharmD, serves as a Clinical Informatics Pharmacist for Veradigm. He graduated from Campbell University College of Pharmacy and Health Sciences in 2008. After serving as a hospital and community-based pharmacist for 7 years, Tom joined Allscripts in 2015. As the Veradigm clinical informatics pharmacist, Tom serves as a thought leader for Clinical Workflows, Practice Fusion, and Payer Health markets. He also manages the Allscripts' Medi-Span content relationship for all medication related issues. Tom publishes a weekly newsletter to the Veradigm product management, sales, and payer teams. This newsletter provides insight on new FDA approved medications, relevant medical news, pharmacy benefit management (PBM) updates, and new genetic therapies. By connecting the Veradigm team and our external sales partners, the weekly newsletter helps the team stay on the forefront of medical updates, exceeding the needs our clients and ultimately helping to provide better care to each patient.