Written by Stephen Dean, General Manager, Health Plan Solutions, Veradigm
Formed in January 2018, the DaVinci project is a private sector initiative working to help payers and health care providers, (HCPs) "positively impact clinical, quality, cost and care management outcomes" by facilitating the adoption of HL7®, FHIR® data standards. Fast Healthcare Interoperability Resources (FHIR®) is the set of standards that will facilitate the exchange of health information through connected, interoperable systems using a consistent data format.
Members of DaVinci include health plans, health care providers, health IT vendors, CMS and HL7®. Veradigm, an Allscripts brand, is proud to be one of the founding partners.
DaVinci Focus Areas
The DaVinci project has defined 9 payer-provider data exchange scenarios, called "use cases", where they are focusing efforts to define data needs, data requirements and workflows, create implementation guides and test the guidance. All with the goal of standardizing and streamlining provider-payer data exchanges using HL7® FHIR® as the base.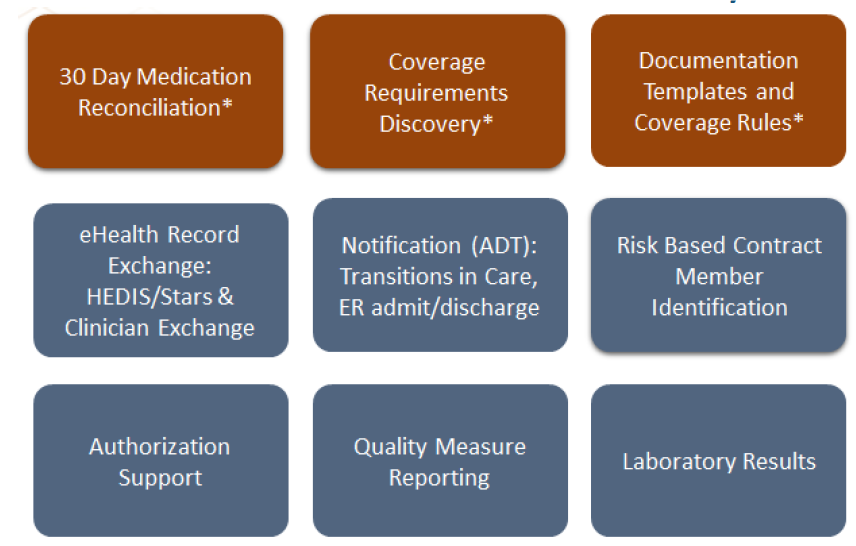 *Initial use cases defined in March 2018
DaVinci now has defined requirements, created implementation guides and is ready to test the first two use cases: 30 Day Medication Reconciliation and Coverage Requirements Discovery. The third and fourth use cases, Document Templates & Rules as well as eHealth Clinical Data Exchange, are in process and DaVinci is targeting Q2 2019 to publish guides.
eHealth Clinical Data Exchange (eCDx)
The eHealth Clinical Data Exchange (eCDx) use case, currently under development, focuses on sharing:
Quality measure information for quality measures such as HEDIS® and 5-Star
Clinical information available in Electronic Health Records (EHRs) obtained at the point-of-care
Payer information such as claims or payer-based health records (ePDx).
This use case is significant to health plans and providers since existing processes are often manual, inefficient and therefore costly and unproductive. As we noted in our article on Mitigating waste in healthcare/provider information exchanges, 90% of more than 100 million medical records requested by HCPs each year are exchanged via manual methods such as traditional paper or analog fax.1 Further, the data exchange covered in this use case is critical to understanding and addressing care gaps, optimizing member health outcomes and maximizing reimbursement under value-based-care – all areas that have direct impact to revenue.
Today there are solutions, such as Veradigm eChart Courier™, which can automate some of these exchanges, such as medical chart retrieval. Future solutions will benefit from a consistent data standard in place under DaVinci and will be able to pull data across more sources and provide more robust information across member/patient encounters with different doctors, facilities, labs and other providers. Health plans will also be able to pull more targeted information, extracting only the data they need for a particular task – such as quality measures, care coordination or other goals.
Further, the Clinical Data Exchange use case will facilitate the ability of health plans and providers to share information bi-directionally. Today, health plans send gap-in-care messages manually via email, fax or even snail mail. They have no way of knowing if the health care provider received the information, let alone acted upon it. With bi-directional exchange, health plans will be able to have a two-way dialogue with providers – strengthening their ability to influence at the point of care.
The outcome of the DaVinci eCDx use case will be data shared in a standard format through bi-directional payer-provider exchanges. Through these improved data exchanges, health plans will be able to improve care delivery, quality metrics, risk adjustment, care coordination and care planning.
Look for more information to come out from DaVinci on this in Q2 2019.
Veradigm® – Transforming Health, Insightfully
Veradigm is proud to be a leader working on the DaVinci project. As part of Allscripts we are a founding partner of this effort and committed to building open, connected communities. We work to improve the value, efficiency and quality of care delivery by providing actionable insights and innovative tools to help health plans control costs while optimizing health outcomes. Please contact us for more information.
---
1DataFile Technologies, Allscripts Milestone Points to Industry Shift to Streamlined Records Processing, April 28, 2017