John Farah, PhD; Shruti Gangadhar, MS; Colleen Erickson, BA; and Geoff Caplea, MD, FAAFP
Referring generally to drug safety, pharmacovigilance specifically encompasses activities relating to the detection, assessment, understanding, and prevention of adverse effects for purposes that include establishing the relative benefits and risks of medicines and encouraging their safe and rational use.1
During this past year, the importance of medical product safety became even more evident owing to the centrality of vaccines in fighting COVID-19, the use of which required post-authorization real-world surveillance of safety data to fill critical information gaps.
Typical real-world safety surveillance is passive in nature as it relies on spontaneous reports of adverse events from healthcare professionals (HCPs), patients, and caregivers to regulators or the responsible firms for whom reporting is mandatory. Active surveillance using FDA's Sentinel System, which aims to leverage RWD sourced from administrative claims and, increasingly, electronic health records (EHRs), monitors the occurrence of adverse events in large numbers of patients over longer terms, beyond the traditional clinical research setting. Contributing partners, including Veradigm, participate in managing the Sentinel Operations Center and in developing a new Sentinel Innovation Center.2
Veradigm is also supporting pharmaceutical sponsors in conducting post-marketing medical product safety surveillance. A use case and solution example are described below.
Pharmacovigilance Use Case: Risk Evaluation and Mitigation Strategy Support
Risk evaluation and mitigation strategy (REMS) programs are safety programs required by the FDA for medications that have proven effective but have serious safety concerns.3 By informing and/or supporting conditions for safe use, REMS aim to reduce the occurrence and/or the severity of certain serious risks.3
A pharmaceutical sponsor has partnered with Veradigm to assist HCPs in reporting adverse events of special interest for patients who have received or continue to receive a certain prescription therapy. A large, cloud-based, ambulatory EHR platform available from Veradigm that includes single providers and small group specialty and primary care practices from across the US is being used to help manage both known and potential serious risks of the medical product over the long term.
The sponsor's REMS program aims to bring practices on board with detecting and reporting "signals"–information on a possible causal relationship between an adverse event and a drug.
The REMS program leverages the capabilities of the Veradigm EHR to generate timely, actionable notifications at the point of care. The program provides HCPs with awareness messaging and multiple opportunities from within the clinical workflow to document and report to the sponsor specific adverse events that may be experienced by patients on the drug. In addition to prompting the HCPs to monitor, document, and report the adverse events, the notifications also provide HCPs access to reference materials on the sponsor's REMS program (e.g., prescribing information, REMS letter, counseling chart, and medication guide). HCPs voluntarily report adverse events and additional details directly to the sponsor using reporting links provided in the notification. The sponsor reports this information to the FDA, as required by law.
On an annual basis, metrics regarding notification effectiveness are provided to the sponsor.
Using a Modular Analytics Platform to Support Global Pharmacovigilance
Evalytica® is Veradigm's cloud-based, scalable modular analytics platform. A software-as-a-service application equipped with a cohort building platform, analytics for generating real-world evidence (RWE), and data visualization capability, Evalytica is built on the Observational Medical Outcomes Partnership common data model (OMOP CDM) widely accepted by health authorities. Evalytica enables rapid, transparent, and reproducible analysis of diverse data sources, including Veradigm's own Health Insights ambulatory EHR as well as commercially available databases in OMOP CDM format.
The application's key features and capabilities may support drug safety teams tasked with designing and implementing pharmacovigilance studies. Data scientists who select Medical Dictionary for Regulatory Activities (MedDRA) codes when initiating an analysis can search for and explore related terms in other (SNOMED CT, ICD-9-CM, ICD-10-CM) medical vocabularies.
Evalytica allows the development and storage of parameters used to identify and capture important safety data from de-identified patient records. These health-outcomes-of-interest definitions can be stored, searched, shared, and reused in other analyses. Additionally, features facilitating cohort and analysis definitions and modular workflows that allow patient selection from different databases enable data scientists to curate granular populations (e.g., patients with a disorder of interest and a specific comorbidity) for retrospective safety analyses.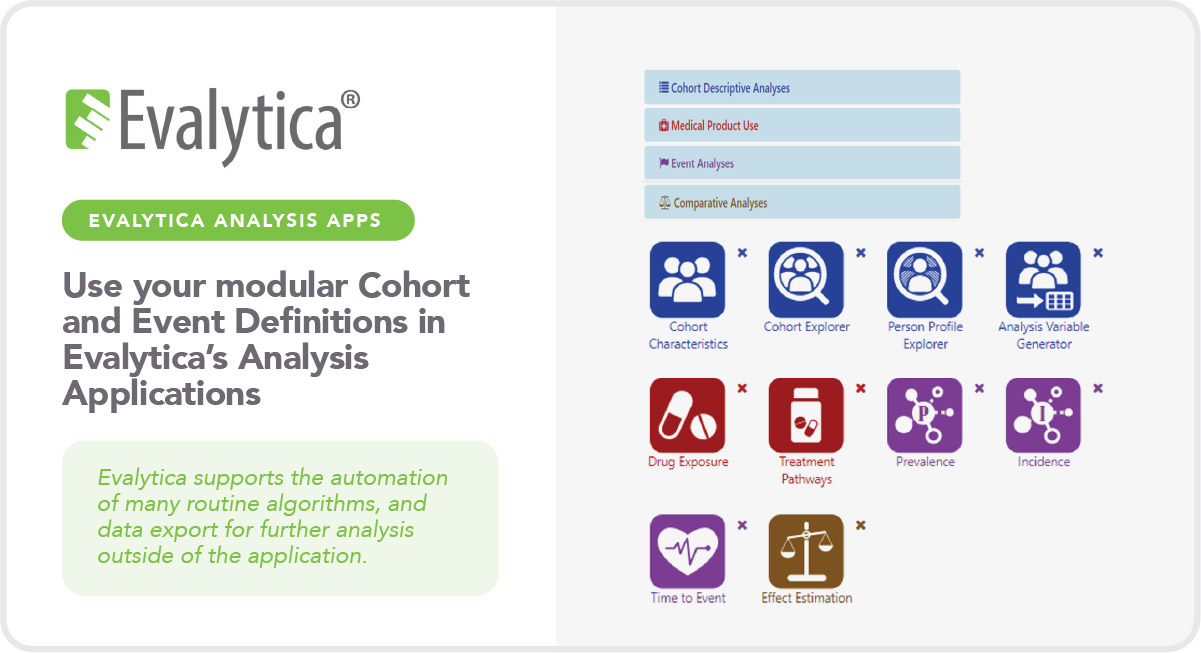 Evalytica also includes analysis applications capable of supporting post-marketing safety surveillance by rapidly and efficiently contextualizing diseases, patient populations, treatment patterns, and background adverse event incidence and prevalence rates. Evalytica enables cohort matching using high-dimensional propensity scoring.
Veradigm is a leading provider of healthcare data systems and advanced analytics. Veradigm's real-world evidence, health economics and outcomes research, and data enrichment analytics offerings are available to healthcare stakeholders interested in obtaining timely, in-depth insights into real-world patient cohorts to answer challenging research questions, optimize clinical outcomes, and advance patient care. Analytics tools offered by Veradigm are fully customizable. If you are interested in learning more about how Veradigm can facilitate post-marketing medical product safety surveillance, please contact us.
References:
World Health Organization 2002. The importance of pharmacovigilance. https://apps.who.int/iris/handle/10665/42493

Veradigm 2020. Veradigm Health joins Harvard Pilgrim to develop next phase of FDA's Sentinel System. https://www.businesswire.com/news/home/20191010005125/en/Veradigm-Health-joins-Harvard-Pilgrim-to-develop-next-phase-of-FDA%E2%80%99s-Sentinel-System

Food and Drug Administration 2021. Risk evaluation and mitigation strategies. https://www.fda.gov/drugs/drug-safety-and-availability/risk-evaluation-and-mitigation-strategies-rems